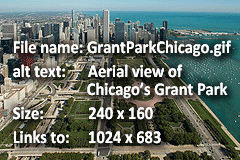 Images are so important – in any media. Too often bloggers, writers and SEOs get too wrapped up in the content, and often select images as an afterthought.
Good image optimization can be critical to SEO and site performance, but most of all to readership.
Drawing the reader in
The old 'picture speaks a thousand words' adage is as true as it ever was. The right image(s) on your article / blog / web page / property detail page could very well be the catalyst that draws the reader in – and gets him/her to look further into the content you've worked so hard on.
Part of SEO significance includes 'time-on-site' and clicking through the links on the page. Sites with more engagement receive more SEO relevance. Engagement starts with the right visuals.
And don't rule out creating a graphic image to illustrate your point. It the image engages your readers, it's well worth the time it takes to create it.
Image SEO
There are basic SEO tactics that should become a part of your image routine – so that you would never consider skipping the steps to save time.
Alt text – An attribute within the image HTML tag. [alt="image description"], the alt text describes the image. Alt text was originally created to describe the image to visually-impaired users using adaptive technologies to understand the content of a web page.
The alt text will appear on a web page before the image loads if you're on a slow connection, but most times the user will not see the text. But the search engines do see it – that's all they see – and for that reason, you should name it aptly, using keywords where appropriate.
Refrain from giving your image alt text like [keyword A, keyword B, etc]. It's an annoyance to the user who uses the alt text to understand your page and an SEO penalty waiting to happen.
Captions – Captions also have SEO value in that the search engines will examine text blocks in close proximity to an image. Captions also give your human readers a quick synopsis of your article that could help draw them in.
File name – use the filename to describe the image – it will reinforce your alt text. If your image is a screenshot of video analytics, name the image appropriately – Property-tour-video-analytics.jpg. Search engines don't learn much from an image named IMG_000734.
Links – somewhere in your post or article you can link to your image and use appropriate anchor text. It's even better if you can link to that image from another page on your site – even better from a page outside your website.
Consistency – don't get distracted from the goal of your web post or page when naming your images. Make sure there's a topical relationship between the article and your image's SEO attributes.
Images' effect on site performance
Web images should be the exact size they will appear on the web or very close (larger, never smaller). Who hasn't experienced the pain of watching an image slowly render and/or the spinning 'load' icon? Eliminate the wait. Humans, by the way, are much more tolerant than search engines. Page load time is a definite factor in search engine rankings.
As you evaluate an image you've selected, re-size it to the size it will appear on your page. Then link the image to a larger image for those who want a closer look.
My own firm, Data Based Ads, Inc., which processes hundreds of photos each day, makes multiple sizes of each image, identifiable by slight alterations in the URL path. This enables our sites to render as quickly as possible in all situations. Take for instance this sample HTML web display generated through our AdMaster system – note how the images that load initially are exact size (right-click and copy the URL to test), but each photo links to a larger version. The larger version is not necessarily the full-size (this original photo is 3872 pixels wide), but a larger size that optimizes to a typical browser (1024 wide) – a balance between a good presentation and rendering speed.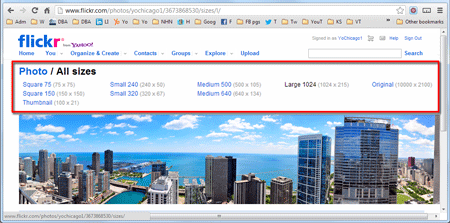 Many image sources create multiple sizes of each image. Save yourself some re-sizing time by becoming familiar with their availability. Photos uploaded to Flickr.com are stored in up to 12 sizes (Click Actions > View all sizes). YouTube even offers its thumbnail image in multiple sizes/resolutions.
And don't make the mistake of making a judgment call on photo sizing based on how it works in your browser. Remember, just because it renders instantly in your browser, doesn't mean that it will render that way on your readers' connections.