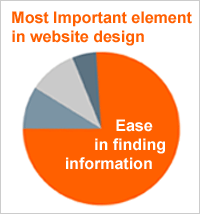 So you've managed to get good SERP position and you've got a new visitor to your site. The question you should contemplate now is whether you can keep him there – and engage him toward conversion. In a recent survey, over 75% of respondents said that the most important element in website design is 'ease in finding information'.
Visitors to your real estate site are typically there to find something specific. As a business seeking the confidence of and a connection to a new prospect, you want to make it a no-brainer for that prospect to find what s/he wants. You do that with a clear and familiar navigation scheme.
Skip the fancy graphics unless they support function. Don't do anything 'cute' that interrupts their mission of finding information. And NEVER make them wait for the music to stop or for your fancy flash movie to finish.
You typically won't know what your prospects are seeking, so everything has to be accessible – especially the pages that get the most traffic.
When you DO know what your user is looking for – send her there. Make sure that when you optimize a page for a particular keyword phrase – that it's the right page. If you're a LaGrange Realtor who has worked your SEO to rank for 'LaGrange real estate' – don't send a prospect who has deliberately typed 'LaGrange real estate' in the search box to your realtor profile page, or to your home page, or to your Chicagoland property search page and make them enter search parameters. Deep link them to the page that incorporates a mix of community information, new listings and recent solds in LaGrange. They'll be able to navigate from there when you provide a clear menu path. And they'll appreciate you giving them what they came for – ideally with their business.