There is rarely a viable SEO substitute for interesting relevant content. Engaging real estate content, be it a blog post, video or imagery will naturally command search engine attention in the search categories related to it, though it doesn't hurt to double back and make sure you have the good on-page SEO 'flags'.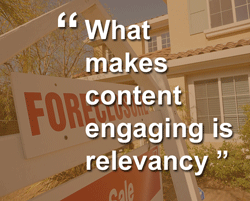 Here's a short guide to creating a new page or a blog post that doesn't become mired in SEO terms:
First things first - craft a message that will interest your target audience.
Check for keyword phrases that occur naturally in your writing
Identify what search phrases a prospect might type in the search box to get to this page
Use a keyword research tool (the Google Adwords keyword tool is free) to see if real people actually search on that term. The tool should also give you suggestions on variations of the term that people do search on.
Go ahead and insert those keywords into the right places where it does not disrupt the reader experience
This is not to say that you should not say "I want a page that ranks for a term like 'Naperville custom builder'", and write content relevant to that keyword term. Just try writing without thinking about SEO, but about engaging the reader. Then go back and make any SEO modifications that will help the search engines find you, but won't make your SEO efforts apparent to your readers.
There is more than one real estate blog in town trying to rank for the term 'Chicago real estate' or 'Chicago Homes'. Some of the blog titles themselves would discourage readership given that they look like they're written by someone without command of the language. Some real blog titles I've seen – 'Enjoy summer festivals near your Chicago real estate'; 'Notorious Chicago Real Estate Hits MLS'. Really?
There is no substitute for great content. It engages your readers and encourages them to follow your links deeper into your site. Don't hide good real estate content behind contrived SEO phrases loaded into your post. Poorly-written content is a bounce inducer – and then whatever SEO efforts you've made on that page are for naught.
Background Flickr image courtesy of respres