This recent article references a survey that asks small and medium businesses which marketing channel they would choose, if they could only choose one.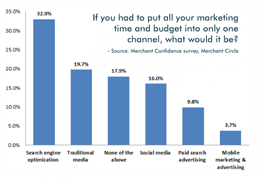 Clearly, search engine optimization is considered the most important. Further evidence of how websites are the driving marketing force for all business.
A major concern for small to mid-sized real estate businesses, like regional or custom home builders, or local one- to two-office real estate brokerages and even individual agent businesses is 'How do I compete with those big national guys?'
On the search engine results pages, in specific categories, the playing field is leveled. These real estate businesses find that they have the ability to compete in the niche markets they serve by carefully analyzing their website content, maximizing the user experience on their sites, and creating local, relevant content that enhances their search engine results presence.
The key to a growing business is new customers. Catching potential prospects' attention comes from being in the right place (search engine results page), with the right information (relevance) when they are actively searching for your product or service.