Real estate marketers who follow their search engine results page positions via an actual live search on Google may sometimes be misled as to the actual rankings if they're not paying attention to the factors that influence Google's personalized search.
Web history / personalized search
Personalized search is always being refined, but in a nutshell, if you are signed into your Google account or using the Google toolbar in your browser with the page tracking feature enabled, then Google has kept a record of all the pages you've viewed over time, i.e., your web history. That history is what is used to, in Google's words, get the search results most relevant to you. Not a bad thing, unless you're trying to assess your real position in search results or monitor an SEO effort by doing live searches.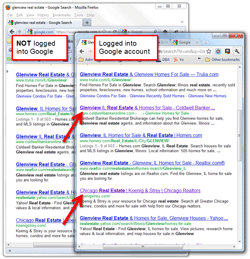 Logging out of your Google account and/or deleting your web history will give you a truer picture of where you stand in the results. In this example of the effects of personalized search, you can see one browser where I am logged in to my Google account and one where I am not (click on the image to view). I am searching on the term 'Glenview real estate'. You can see that two sites that I frequent (clients of my firm) are given enhanced positions in this search because I have searched and/or visited them while logged into my Google account.
The effects on search can be subtle as seen here, or more dramatic in some cases, as in my second example. You will note that the general order of the results is fairly consistent. Google will not say exactly what percentage of results are based on web history.
Social connections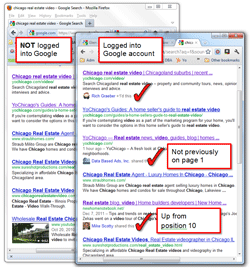 Your social connections have a similar effect on your results. Sharing on Facebook, following on Twitter, 'plus-one' on Google+, subscribing on YouTube and a host of other social activities have an effect on personal results, as evidenced in this search on 'Chicago real estate video'. You can see that sites that my social connections have connected with are featured more prominently in my search results.
In this previous post on the importance of social signals to real estate SEO, I talked about the positive effect that social signals can have for your followers and how this phenomenon can enhance and reinforce your social connections.
The same benefit would apply to personalized search. Your site coming up higher in a personalized search of a potential prospect is an SEO win. All the more reason to engage them with your site earlier – a prospect researching a real estate purchase is typically going to repeat similar searches again and again.
Note (added 12/28/11): I should have noted in this article that if you'd like to turn off personalized search, try adding &pws=0 in the address bar at the end of a google search URL. Example: https://www.google.com/search?q=chicago+real+estate&pws=0