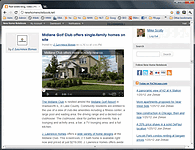 So you're a real estate business owner who wants to up his SEO rankings and everyone says you've got to write a blog. Good move. But what exactly does a blog do for your SEO? And is it ever going to be enough to affect your bottom line? I say that it does both – in measured progression, but the cumulative effect can be enormous.
Here's how a blog helps your SEO.
Here's how a blog helps your business.
Your prospects get to know you. Making a connection with a potential client is the most important hurdle to a business relationship. Your personality will come out in your blog posts. You're giving your readers a bit of yourself while you're demonstrating your market knowledge. A good blog speaks to and answers questions about the buying or selection process for whatever product (a home) or service (yourself) your business sells. Your blog lets you feed a prospect the answers and educate them. They'll appreciate that and be more likely to reward you with their business.
Your blog can serve as a resume. If you meet someone at a party or a business function giving them a card or a follow up call is one thing. Directing them to your blog can demonstrate your expertise on a range of topics. You can even direct them to certain posts that are more relevant to their situation.