Real estate bloggers can only talk so much about what makes one granite countertop better than the next guy's, but what you can talk about is the community where your granite resides.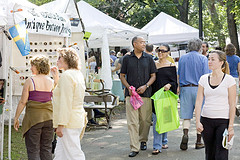 Buyers typically choose a neighborhood or community first, then they look consider the buying options in that community. If you can interest that potential buyer in your neighborhood, you could be well on the way to an opportunity to vie for that person's business.
And there's so much to talk about – community events, traditions, history. Schools, local government, local business. Neighbors, lifestyle, community gatherings.
Part of any content strategy is to place your reader in your environment:
Talk about the surrounding neighborhood amenities, the lifestyle, the culture
Talk about the nearby shopping and dining opportunities
Talk about the schools, the variety of religious options
Talk about regular events and festivals that neighbors can participate in.
Talk about the small events that neighbors hold – holiday traditions, summer BBQs, block parties
Paint a picture of what it's like to live in the area – the perfect summer evening, the first snow, the fall weekends.
And don't try to cover them all in one post – take one at a time.
Here are some examples of community-based blog posts.