A picture's worth a thousand words. This adage has been true since the beginning of time. And you'd be hard pressed to find anyone that disagrees with it.
Amazingly though, web publishers often ignore this truism for reasons that are hard to fathom. I think perhaps that in the age of blogging and 'anyone's a publisher', writers focus on keywords and content to get found. What they may be missing is that once a reader is facing your content on a computer screen (whatever size), it's the image that gives them the sense of where they are and whether they want to continue reading an article.
Finding the best image to support your story/blog/article/ad is perhaps the most important element and the appropriate amount of time should be spent researching, finding, or even creating that element.
News articles
There is a stunning lack of attention to using images online in both Chicago newspapers. I often read headlines in an online RSS reader and often click specifically to see a picture of whatever the subject is – only to find none. Incredibly, there are sometimes photos in the printed edition, but none in the online edition. Go figure.
I also frequently choose the Top Story of the day for our online real estate news feature 'Chicago real estate news' on YoChicago. Almost half of the stories I attempt to use, based on their appropriateness for a particular day, get skipped because when I open the article – it has no image. I won't use an article for this spot unless it has an image because I know from analytics that the image draws readers – and these publications miss out on being featured on the second-most-viewed page on our site.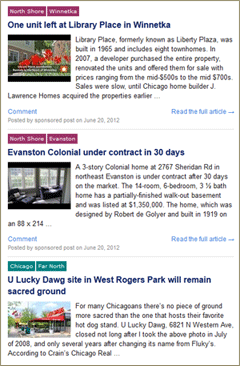 Blogs
Blog posts should be summarized by a good image. It is nearly as important as the content itself. Your blog's home page should have a thumbnail image accompanying the excerpt (summary) text – especially if you have substantial direct traffic to your blog. A glance at that page should give your potential reader a sense of what your overall content is about.
Facebook
Friend posts aside, when it comes to the business pages you've liked, you probably blow by the posts without images. Unless the article is particularly worthy of your target audience's attention, an imageless post is only likely to take up space in a reader's scan. Skip it if you can't give your readers a sense of the content in a glance.
Video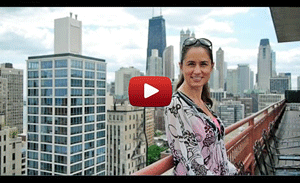 Video thumbnails most definitely have an effect on viewership. If you have a partner channel, YouTube allows you to add a custom thumbnail.
We upload custom thumbnails to most of our YoChicago YouTube channel videos. We've discovered that in our YoChicago weekly emails, when we use a thumbnail with a person (the more animated the better), we get more than twice the click-throughs. I'm guessing this is for the same reason that YoChicago videos get good viewership – people like watching real people.
Good image selection is ALWAYS worth the effort.