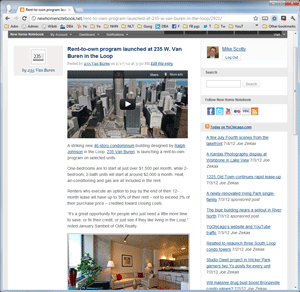 You're not going to change the world with a single blog post, but the cumulative effect of real estate blogging can help you rank for the search terms that your prospects use most.
As you sit down to write a new post:
Decide on a topic
Your website has a focus – pick a subject that supports a sub-topic – a neighborhood, market trends, a property, or community events. Use these blog ideas for agents/brokers or builder/developers to help choose and refine a topic.
Develop the focus
If you've built your website with a good on-page SEO strategy, you've built individual pages that focus on specific topics and search terms. Decide which page or pages you want to direct your internal links to. These will be you most important links in a strategy to interest your readers in additional intelligence on your topic that you provide within your site.
For instance, if you're writing about a neighborhood and/or market trends within it, link to a property search in that neighborhood, or current market stats you provide on that neighborhood, or even specific properties you have listed in the neighborhood. The objective of blogging is to create a relationship between the viewer and your site.
Craft the story for the audience
Make sure that you write your post in a way that will keep a reader interested. Write the way you speak to someone – don't work on getting the links into the story until you've finished. You'll find that the linking text will naturally be in the text you've written without trying.
Craft the story for the search engines
After you've written your post, go back and create links to the pages you determined were appropriate for this post's focus. The right anchor text will probably already be there, if not, find a way to work it into the story without disturbing the flow.
Consider these factors:
Your blog headline should include your most important keyword phrase – the closer to the front of the headline, the better.
How and where you place your links matters. The flow of your story should be preserved, but when you can implement these linking factors into your post, you're in a better SEO position.
Use your best anchor text. Consider what people are likely to type into the search box to find your post – and work it into your links when reasonable – and your headline.