There's no need to cite the validity of social media consumers – Facebook and Twitter are most certainly useful marketing channels for anyone in real estate, from the big brokerage to the national builder to the individual agent. To ignore Facebook and Twitter, or to use them poorly is doing your marketing plan a disservice.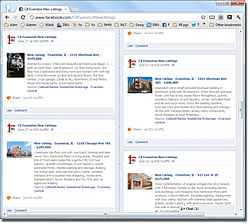 As I see it from people I've talked to about it, many Facebook users use their own experience with business pages as a Facebook user as an indication of the overall effectiveness of business page postings. They see all the annoyances, but don't really recognize the few businesses that they actually do read because, well, the content is interesting to them. It's a classic case of 'You don't stand out until you annoy me'. On successful business pages, relevant information, regardless of the frequency, has a measured positive and cumulative effect in a prospect's relationship with that business like few other marketing opportunities can.
Some classic annoyances:
The business page that posts on a regular basis, regardless of the relevance of the content.
The business page that curates (posts what others have written) every article about the marketplace or industry. Oh wait – only the positive articles – never even the slightly negative.
The business page that posts the 'viral of the day'. Do we really need a local business to share 'hot dog eating contest winner throws…'?
If you want to be seen and more importantly valued for you Facebook posts and tweets, perhaps a better tactic is to post
Business-related content (your business, that is)
Content that your competition isn't also posting (curated articles)
Original content – links to your blog posts, your listings, your special offers
This post was inspired by a comment our salesperson received from a broker when we were discussing new listing feeds into their office Facebook pages. One of the products of our firm is a real estate data management system that collects, refines and distributes listing data and images to various online and print marketing venues, social sites included. The broker's comment was "We don't want to post our listings on Facebook – that'll bug the hell outa people." My response would be to consider your target prospects who have 'Liked' your local real estate firm's Facebook business page and consider what kind of info would they be looking for from you? Market data. Pricing. Timing. All the things new prospects are looking for before they choose representation.
So the question becomes "Would a potential future client be interested in seeing a new listing that is local, that they probably recognize with a listing price attached to it? I would say yes. And would they be interested in the volume of listing business the local real estate office is doing, indicated by the frequency of those posts? Again, yes.
Think about your audience – your TARGET audience – the audience that might bring you future business. What are they following you for? The weather? To be friendly? Because they need another source of news each day? Not likely.
A qualified prospect that follows a local real estate office is likely to looking for market information about the relatively small area or community that the office serves. What can you tell them about your community that is real estate related?
A qualified prospect that follows an apartment high-rise or community probably lives there or is considering living there. That person is interested in amenities, special offers and future events at the complex and the benefits of living there.
A qualified prospect that follows a builder is interested in whatever the company is building, the custom variations, construction quality, etc.
That is not to say that other types of people don't follow each of the business page types in these examples – employees, friends, the friends of friends of friends that you recruited to boost your page's 'Like' count – but your focus should be on your real prospects, with real information.
Nor is it to say that your Facebook page should not be 'social'. Many large real estate companies talk to each other on their Facebook pages – which is fine and a great internal communication device – just don't expect to get much real business from it.
The frequency of your posts should be guided by how often you have something relevant to post. No one gets annoyed by good information – information that your 'Likes' essentially asked for.
And if you don't know how to rid yourself of those annoying pages you 'liked' but are tired of seeing – hover in the upper right corner of any post – and click 'unsubscribe'.