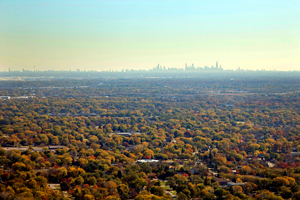 A fairly common mistake that real estate brokers make when trying to optimize their website for search terms is that they try to rank for too many terms without supporting each term with specific content or more appropriately, a specific page.
Achieving page one ranking for your home page is almost impossible for more than one search term. It's very important to remember that search engines surface web pages, not web sites, and that each term you want to rank for needs its own landing page, optimized for that specific keyword phrase.
Let's imagine a real estate firm that serves Oak Park, River Forest and Forest Park, three close-in suburbs that are geographically contiguous. Each suburb has its own demographic, and although there is some crossover, it's pretty likely that any search engine user looking for one of the three suburbs is looking specifically for real estate in the suburb searched.
But it's also quite true that between the three suburbs, a wide range of housing is available and it is logical that a real estate firm would want to rank for all three individually.
The operative word here is individually.
In a case like this, the site SEO should concentrate sending users to three (or more) individual landing pages, one for each suburb, and more pages if you want to rank for neighborhoods within. And each page should have a variety of community-related information and links.
Given that search engine optimization is as human as it is structural, clicking a page one link is only the tip of the iceberg. Getting that person to stick with your site is your primary objective. And you get them to stick with you by giving them what they asked for. If they typed in 'Forest Park real estate', give them Forest Park real estate. Don't give them your agent profile, don't make them find your search function (they won't) to once again type in Forest Park, don't send them to your home page to read about all the places you do business, how great you are, or all the things you get when you work with your firm, or you. Give them what they asked for.
A Forest Park real estate landing page would have a little bit of everything, but most importantly listings (preferably new) and recent solds, a bit about the community, perhaps market stats and plenty of link opportunities. Anticipate what your users are looking for in a search term and give it to them, and they're much more likely to go deeper into your site.
Tip: when you're looking to rank for a search term, google the term and evaluate the content of each page that the top results are linking to.