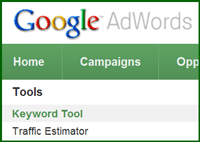 SEO is about keywords and keyword phrases perhaps more than any other factor.
A good website strategy will cite the specific and broad keyword targets of a page. But if you're building a new page, you want to find the right terms to fit the idea of that page. Or if you're writing content on a blog or another site that will link back to your site, you want to find the right terms to use in your anchor text.
So where do you start? Google Keyword Tool. It's free, and, well, it's Google measuring itself.
Google Keyword Tool is actually built for AdWords (pay-per-click ads), but it is a world of information on search behavior and keyword targeting.
Let's say I'm a Realtor representing a new townhome development in Wicker Park. I want to build some web pages on my site and I want to post some articles, blogs and news releases that drive traffic and SEO relevance to my site.
My first inclination is to focus on some obvious terms like
Wicker Park townhomes
Wicker Park new construction townhomes
Wicker Park townhome specialist
But a query of those keyword phrases show that there isn't even enough measureable data on any of the three terms give you a number of monthly searches. Try adding some broader terms and you can see where you might have better success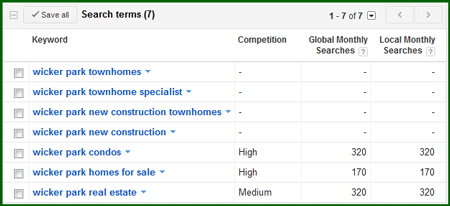 This is not to say that you shouldn't include your specific terms like "Wicker Park townhomes" in your content – you absolutely should. What the keyword tool data tells you is that you should also work in some of the broader terms that are actually used in search queries.
Very often in real estate you find yourself wanting to penetrate a neighborhood, community or city. What I usually do in these situations is take a group of real estate terms that I've saved, stick the community name in front of each term and put them into Google Keyword Tool. I then look at the results in relation to each other and to my SEO goals and plot the best strategy from there.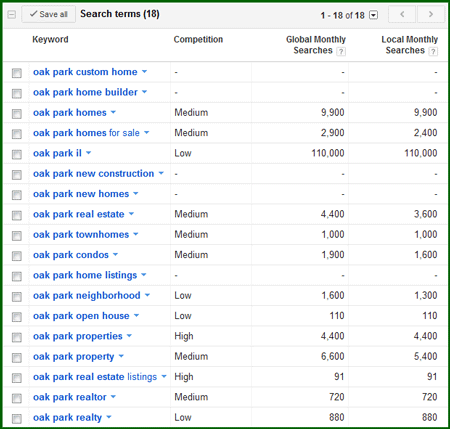 Use this information to
Look at keywords that have driven traffic in the past
Looking at the search volume behind those keyword phrases
Looking at the difficulty in achieving page one ranking for appropriate phrases
Decide on your best options
Build on your pages and content (and occasionally adding pages) to optimize for those phrases
Spend a little time with Google Keyword Tool. You can learn a lot. All you need is to sign in with your Google account and start testing.