'Local' has always been a buzzword and a somewhat elusive objective in web marketing. GPS, check-ins and social media have improved a real estate business' ability to master the local market, but nothing outshines good old networking and relationship building as the core to getting online exposure.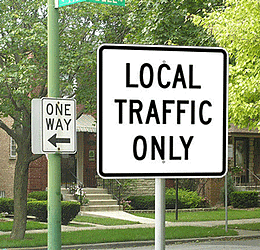 Becoming a stalwart in your local web community can transcend many of today's search uncertainties and challenges surrounding unnatural SEO practices. As the search engines become able to detect the 'easy solutions' to SEO, businesses need to retrench and consider the legitimate communication that it takes to make a difference – to your target audience and to the search engines.
If you're truly a local real estate business, or a branch office of a larger company where your primary business gets done in a local community and its fringes, your presence in a community is more likely to surface on the web when you can associate your business with various organizations in your community.
Research your local opportunities
Marketing has always been centered on the reach and frequency of your marketing message in different venues. Consider your local audience, and their impace on web search in terms of your local community.
Chamber of Commerce
Business organizations and networking groups
City websites and business directories
Local news publication sites
Local charities
Local bloggers – real estate and otherwise
Schools, sports clubs
Focus on the influential
You know, typically, who the influential organizations are in your community. But do a little extra research. See who surfaces in community based searches, like 'YourTown restaurants', 'YourTown community organizations', or 'YourTown tours'.
Make personal connections
Offer your expertise on the housing market.
Offer to talk to an organization or group. Given that a speaking engagement usually guarantees coverage on their website, ask for the coverage. It's a fair exchange.
Interview local business people for a write-up in your own blog. That person or business is likely to link to your blog on their site. Again – ask for the link.
Offer a guest blog post on the current state of the local housing market. A post is easy to write using your company's local market stats combined with your own recent experience. Include links to your blog and reference market stats on your site.
Offer an exchange of links if the organization has a local directory on their site. Note: lately Google characterizes mass link exchanges as 'paid' (unnatural) links – but in reality, we're talking about a handful of links at best at a local level.
Include influential local businesses in any community videos you make for your website
Use your social media
Reference your local business network on Facebook, Twitter and Google+. Call them out for activities they support that may interest your own local followers. Let your fellow businesses know you support them and typically you'll get that support back. This is a viable exchange of support between local merchants that pays off for both sides and gives additional exposure to both sides to an engaged audience.
The more you show up in local searches as the real estate go-to expert, the more search engine exposure you'll get, as you'll be a part of non-real estate searches – searches that are made where the majority of your potential clients live and work – your local market.