There's no shortage of opinion on the optimal real estate video format.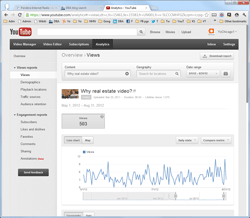 But there are two overriding factors in determining effectiveness. Does it get watched and are the viewers engaged? And earlier this year, YouTube expanded its video analytics, making those factors easier to gauge.
If you're a channel administrator, i.e., posting your own video on your own channel, you'll have access to these analytics. Just log in to your channel and click on Analytics.
Among the tools featured are:
Views reports
Views reports give you the numbers. One of the great things about YouTube is that it the viewer counts include views from YouTube itself and all the places that video may be embedded. Analytics will even tell you what site it was watched on.
Demographics
Male or female, age group, country of origin. If you're not hitting your target market, time to make adjustments to your message and/or your SEO strategy (title, description, tags).
Playback locations

It's very interesting to see what channels your audience is viewing from. If you've made an effort to embed your video in other sites, you can see not only the additional effect of those views, but what other sites those views came from. Remember that anyone can embed your video on their website when they find your video worthwhile and informative. This is the video SEO equivalent of a good inbound link.
Traffic sources
This section answers the question – 'How was this video found by its viewers?' And it answers it in minute detail. Google search, YouTube search and embedded video on another site are among the categories. And each is a link that goes into deeper detail including keywords used, position of link on page and other specifics. It can almost be overkill, but it's quite revealing.
Audience retention
Audience retention really speaks to the quality of your viewers. How long did they watch? Regardless of the length of the video, you are clearly able to see what percentage of viewers have watched the video for how long.
If you've got 300 views on a video, and 60% of your audience watch the video in its entirety – you've got at least 200 engaged viewers, probably more. Just because someone abandons a video halfway through doesn't mean they didn't get the intended message.
Engagement reports
Much of your video and channel SEO relevance is based on social signals that come from viewers in the form of interactions and comments.
The second section of YouTube Analytics is the engagement reports, which measure
Subscriptions to a channel driven by a specific video
Likes / dislikes
Number of viewers who marked a video as a favorite
Number of comments on a video
Number of times the video was shared
Both viewership and engagement reports can be viewed for the entire channel, which has a strong impact of your individual videos' SEO relevance. A strong channel with videos that perform well in viewership and engagement will be treated by YouTube and by the search engines as authoritative and relevant, which translates to better search position.