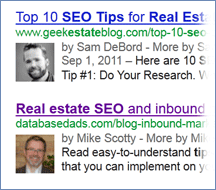 If you are a blogger, a videographer, or provider of interesting online real estate content on a regular basis, you should know about Google authorship markup.
In a nutshell, you can link your content from your own website, or even content you create on other sites to your Google+ profile, and have your author image appear in the search results.
With the integration of Google+ into all things Google, you may have already seen that some of your search engine results are showing up with your image. Here's why – When you have a Google+ profile completed with links to "contributed to," "links" and "other profiles," Google will pick up that linkage and sometimes show the author's Google+ profile picture in the search results, as they would with the authorship markup.
If you want to ensure (and you do) that your authorship displays where it should – there's a pretty simple process to follow. Or dig a little deeper with this authorship guide.
New benefit of authorship
In its quest to improve the search experience, Google is capitalizing on authorship to provide additional links to a reader who spends substantial time reading your content from a search engine result listing. Google makes the assumption that the reader would be interested in seeing more of your content.
Here's how it works:
A reader clicks on a search engine result with an authorship icon.
S/he spends at least 2 minutes reading the web page (reading assumed).
S/he clicks the 'back' button.
Google provides the reader with three additional related links from the author.
Again, Google rewards informative, relevant content, your best SEO strategy.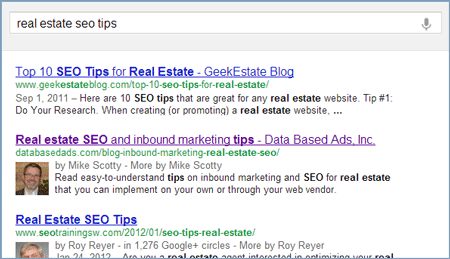 After 'back' button: