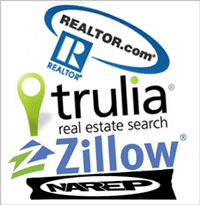 With the announcement of NAREP and their effort to combat 'listing syndication abuse', one thing comes to mind – the futility and history of the brokerage community attempting to manipulate market forces.
When opponents of the Big Three (Trulia, Zillow, Realtor.com) talk about listing syndication abuse, they're referencing the placement of the contact information of Realtors who pay to advertise on these sites on the same listing detail page as a non-advertising Realtor's listings. The group also references a recent study that compares the accuracy of broker sites vs. Trulia and Zillow, but anyone familiar with the dispute knows that the real issue is the absence and/or poor placement of the listing broker's contact information on non-advertiser listings.
Consumer advocacy?
If NAREP supporters were really concerned about consumers' access to accurate information, they wouldn't be advocating the dismantling of the largest and most comprehensive housing websites, they would be working to improve them. Specifically, they would be working to improve their own listings' presence on the Big Three sites on behalf of their sellers.
Broker enhancement opportunities
Every brokerage has the opportunity to feed listings from their most comprehensive source (not necessarily the MLS) to these sites at no charge. Their best photography, branded virtual tours, extended copy – all things that can make your listings stand out these sites and entice consumers to spend more time viewing your listing. And although there are indeed limited (if any) followed links back to the broker's website or agent contacts for non-advertisers, the data you feed to these sites can contain those links.
Traffic
One of my firm's real estate data management software solutions creates virtual tours and distributes (syndicates) these tours and other listing data to our clients' online marketing sites, including the Big Three. Just this past weekend (Sat & Sun), more than 30% of the traffic from one client's tours alone (with broker site links) came from the Big Three – the top 3 referral sources. Only 5% of the traffic came from the broker site.
We also provide individual listing and agent reporting on the web activity on the sites we syndicate for our clients. The numbers are consistently and overwhelmingly in favor of the Big Three.
I'd be curious as to how one would explain to a seller, as their listing agent, why you would omit these sites from your marketing plan.
Marketing opportunity, not menace
The Big Three are consumer-oriented businesses with a clear focus – to deliver housing information and to make money in the process. Their business models are indeed predicated on procuring broker listings, but they are delivering value to those listing brokers – eyeballs and traffic. Enough value, it seems, that 90+% of Realtor listings currently for sale are on all three portals - and they only get there with the listing brokers' permission.
These sites have invested millions in technology, marketing, SEO and critical mass that most broker sites, even the very large ones, cannot duplicate.
Can you imagine if Realtor.com were the only comprehensive real estate site as was its original intention? It doesn't happen in a free market because there is always an independent venture – enter Trulia and Zillow – that has capital and an idea that they can do it better. Kill any of these three sites, and another would take its place.
Enter NAREP. Every group has a right to rally in their own defense. And short of success, which is a long shot at best, the pressure on the Big Three may lead to continued improvements in site/broker relations and policies.
Disclosure: Neither myself or my firm has any relationship with Trulia, Zillow or Realtor.com, short of delivering data on behalf of select clients.