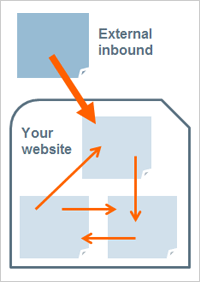 When a website links to yours, search engines interpret that as a real-life vote of confidence that your website can provide some sort of expertise or further explanation of a topic being discussed on the host site.
Search engine algorithms attempt to 'read' human behavior when they decide where a page surfaces in the search engine results page (SERP). So naturally, they are going to favor what someone else says about you over what you say about yourself on your own site.
Hence, external inbound links into your site are going to carry far more SEO weight than the internal links you provide on your page. But every SEO link strategy needs to incorporate both.
Internal links, defined as links that point from one page on your site to another, are far from unimportant. They provide the user experience within your website – the structure that helps your users easily find what they're looking for on your site. And the search engines heavily favor a clear hierarchy in a website's link structure.
External links are defined as links from one site to another. They can be outbound external links, where you link on your neighborhood or community page, for instance, to key businesses in that area, or relevant community news sources.
External inbound links could come from the Chamber of Commerce website in that same community linking to your community page – because they like your overview, your photography or video of the area, and feel it would enhance their own viewers' experience. And Google loves that.
Internal links are much easier to master, since you and your webmaster can control where and when they appear on your site. External inbound links are SEO's biggest challenge, in that it generally requires the creation of relevant, interesting content that those other sites deem worthy of linking to – and then making that content visible on the web through sound SEO tactics.