Good, descriptive anchor text goes a long way toward defining your web pages for the search engines. Anchor text is the clickable text (often blue and underlined) that is clicked to navigate to another page. Anchor text, whenever possible, should be used to define the content of the underlying link.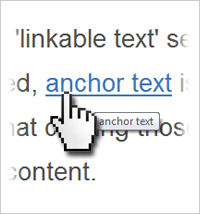 First, it helps your reader understand the value and/or subject of the link.
Second, it helps the SEO of the destination page, whether it is another page on your site, or a page outside your domain.
In both cases, it improves the search engines' understanding of the content of the page, but will also help that page's SEO for the keywords used in the anchor text.
The search engines see an inbound link to a page using a specific keyword phrase to describe it (anchor text) and it makes the connection between the page and the keyword phrase, especially if the destination page content, its URL or its title already contain that phrase.
If many links point to a page with similar keywords in their anchor text, the page should rank very well for those terms.
So how do I get people to link to my site using the same terms? Well, you don't, typically. What you do is you create good content, you stick to a point that people are interested in, and the incoming links to the page, when they occur, should naturally fit the profile of the page.
As an example, let's look at a page on YoChicago.com. The page is a guide called the West Loop neighborhood guide. There are 23 external domains linking 262 times to this page – and the anchor text on 90% of them is West Loop. No one at YoChicago asked them to link this way – it was a natural selection.
Other pages are more diverse such as the YoChicago video search page. This page is defined by 19 external domains in a variety of terms including video, real estate video, search video, video page and video home tours. All the terms are relevant. All the terms are helping the search engines to understand the content of the page.
This is another example of the search engines counting on real people to determine the relevance of a page. People describe the destination pages by the anchor text they use on a link. And you recall from this blog post on inbound links, Google favors what other sites say about you over what you say about yourself.
But don't discount the importance of anchor text in your internal links. They perform the same function and create important relationships between the pages of your site. It is good practice to always consider the anchor text when linking anywhere.
An anchor text primer:
Yes – See a video tour of an Inverness country retreat
No – Click here to see a video tour of an Inverness country estate