So you've managed to rank for a keyword phrase and you're on page one of Google results.
You're not finished by a long shot – and there are a couple easy checks that can help you increase your chances of conversion.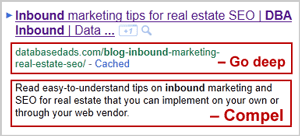 First, are you linking to your home page? Should you be? Or should you be linking deeper into your site to content that is more specific and relevant to your propect's search criteria?
Deep links, that is links to other more specific pages than the home page, bring a searcher directly to the information they're looking for. If you're a real estate brokerage skilled enough to rank for 'Park Ridge homes for sale', you'd better be sending your users right to a search page that has already surfaced Park Ridge listings – because the keyword phrase tells you that's exactly what they're looking for. Sending them to your website home page and expecting them to navigate to that search is a bounce inducer (check your bounce rate).
Second, you're now competing with 10 other results for that first click. Make sure your meta description is compelling and accurately defines the page the user will be sent to. Include the keywords that sent them to your search result – that's what they're interested in.
When optimizing your site, you are typically targeting your content to two groups – humans and the search engines. In the case of meta descriptions – you're only targeting humans. The search engines do NOT consider meta descriptions in their ranking algorithms.
This makes them no less important, however, in that they ARE important in getting searchers to click on your link as opposed to the others surrounding your result.
Finally, and perhaps more involved than the others – do your prospects have a direct path to make contact with you for more information? A phone number, an email path, a contact us link? Don't make them search – it's a search that's easily abandoned.