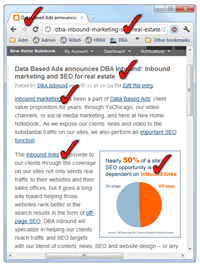 There are hundreds of factors that comprise the science and the art of on-page SEO. But you don't need to know them all to make your mark in the search engine results pages. Let's look at the most basic. I'll break these down further in later posts for those who are interested.
On-page SEO equates to about 50% of your SEO opportunity. The great thing about on-page SEO is that you or your webmaster has complete power to enhance the search engine optimization directly (off-page SEO – not so easy).
On-page SEO refers to the steps you can take on your page to enhance your visibility for a particular search term. Ideally, the pages on your site should all aim at ranking for terms relevant to the content on that page.
After identifying the appropriate keyword phrases, use that phrase or varieties of that phrase in the following places:
Title tag – The title tag is in the code, but shows up at the top of your browser window. Google looks at this first. Pay attention.
URL – make the file path (

http://realestatesite.com/

this-is-the-file-path) relevant to the content of the page.
Header tag (H1) – H1 is the technical term for the visible title on your page. Typically every page has a title – and it should contain some form of your targeted keyword phrase.
Links in your copy – when you can, link to more information about your subject, within your site or outside it, using the keyword phrase or part of it as anchor text. Internal links have slightly more impact - confirming to the engines that your site has some authority on the subject in question.
Usage in copy – repeat the phrase or parts of it within the copy. Use appropriately – once or twice does the trick.
Use in image alt text – images should include the keyword phrase or parts of it in their alt text – which is the behind-the-scenes naming mechanism for images. Alt text, in effect, tells the search engines what the image is.
Using keyword phrases in your title (h1), copy, images, and links on your page can at times be challenging. The thing you do NOT want to do is make your copy unreadable because you've inserted too many keywords. Only insert when it fits naturally into the page content.
These tactics are part of the process of telling the search engine crawlers that 'This is what this page is about'. Resist the temptation to load up your content with other terms that are covered on other pages of your website. You want searchers who search those other terms to land on another page that directly addresses the terms they searched – this fosters engagement and decreases bounce rate.
The keyword phrase I am targeting with this blog post is "on-page SEO". Based on the 5 points, observe how the term is weaved into the post in the manner described.