There is a plethora of data and opinion out there on the impact of social signals on search results. If anything is changing in the world of SEO right now, it's the influence of social media on search results. What you can be certain of however, is that it matters, and that it will continue to matter.
Despite the fact that most social networks make use of the nofollow attribute on individual links, there is a connection made based on the overall activity on social pages, which passes some authority to the social page itself, but also to the URL associated with the account.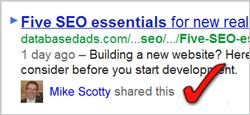 If you've seen this in your search results (see graphic at right), you know that what people's peers and 'circles' are looking at is going to influence how your content is analyzed and positioned in the search engine results.
I've rounded up some guidelines for the top three.
Facebook
First of all, be sure to include your business URL in the profile of your business page. The total number of 'Likes' (formerly fans) adds value to your URL. Second, engagement – it's great to have people 'like' your individual posts, it's better to have them comment and/or share.
Twitter
The more followers you have the more authority for your Twitter persona and the associated URL. Like inbound links, the more authority your followers have, the more authority gets passed to you. And the engines can detect followers in the same industry. It's more relevant to have followers with 'real estate' or other appropriate terms in their profiles. And retweets count – not only on quantity, but as a ratio to your total tweets.
YouTube
Videos should always include a link back to your site in the description, despite the lack of link juice. Numbers of videos on your channel, number of views on each, comments and ratio of likes to dislikes all have an impact on rank.
And any social media network, including blogs, that includes social mentions of your web content and positive brand mentions is going to have a positive effect.
If you're looking for the secret to getting this kind of activity going on your social networks, it typically depends on one primary factor – practical, relevant, engaging content. And sharing your remarkable website content on your social networks. This recent study shows that social sharing increases blog page views 160%!