Chicago real estate video
Video is the defining medium for today's consumer.
Data Based Ads' YoChicago is Chicagoland's #1 real estate video channel, with well over 2,300 videos and over 3.9 million views. Viewers of our Chicago real estate video watch well over 2,600 YoChicago videos on an average day.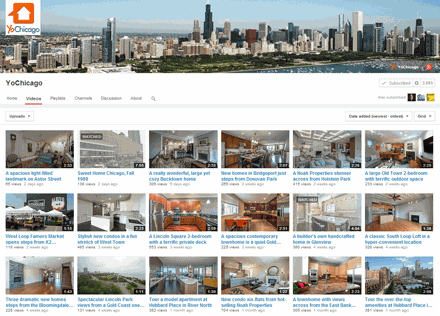 If you're looking to real estate video marketing, consider that our videos get more views than most for many reasons, among them our informal, conversational style, our frequently-visited high authority YouTube channel, our news and blogging platforms that generate quality search results for the videos they contain and our distribution into targeted social media.
Data Based Ads clients have seen firsthand what video does for exposure and search results. Our Chicago real estate video is informational as well as visual. We interview, we comment, we seek opinion, we challenge.
If you'd like to try our video services or just get more information, contact us or call Joe Zekas at 312-280-9780 x101.
Visit YoChicago's YouTube channel.