Testimonials
December 15, 2013 – client email to YoChicago:
We rented a unit this week directly from Yo Chicago as a source. That is awesome that YoChicago is a direct source of a rental now in our market. Love it!
June 21, 2013 – Facebook comment on YoChicago's Facebook page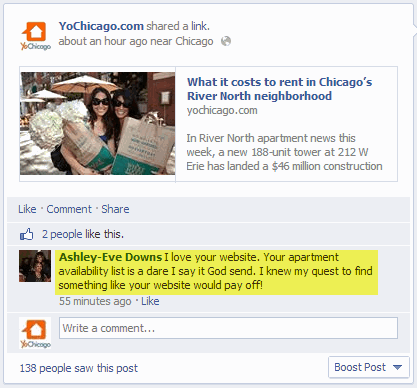 May 28, 2013 – Facebook post on Reside Living's Facebook page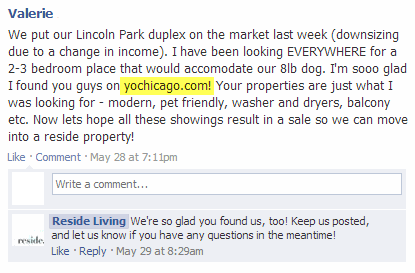 April 6, 2013 – comment on YoChicago's 'Guide to renting in Chicago's Lincoln Park':
Your guide helped us find an apartment on our own, even thou we had a Realtor working with us for "free". He really did try to rent out miserable properties to us thinking he would trick us into believing we have no other choice. Luckily for us, had read a few articles here. Thank you Yo Chicago!!!
April 4, 2013 – YouTube comment on YoChicago video:
See the video