In an increasingly non-print world, real estate print advertising may occupy a smaller space in your marketing plan, but it continues to be significant to market segments that value print. And the logistics of putting out effective listing-based print ads is as chal­lenging and time consuming as ever.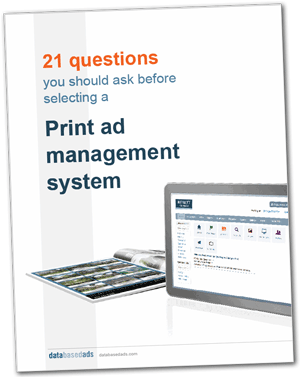 That said, whether you're looking to get organized or you're re-evaluating your current system, you need print ad management software that is adaptive, efficient, expandable and cost-effective. Look for these five traits in your print ad management software, and/or download and read our more detailed ebook: 21 questions you should ask before selecting a print ad management system in 2015
Data integration – in and out
Any good system needs to start with import capabilities. Manual input is a productivity killer. Beyond initial input ask if your software can also augment your database with new data sets - those you may have currently or may have in the future.
And what about exports? Your ad management software should allow for the enhancement of images and data. Make sure you are able to syndicate that enhanced data to online portals, and other marketing vendors.
Scheduling parameters
Every ad and every data export caters to a specific set of data parameters, whether geographic, price-relative, specific property characteristics or several other indicators. Make sure your system allows easily-applied constraints that make ad selection quick, easy and efficient.
Production alternatives
You may want to do production in your own marketing department, you may want to outsource it to a third party, or you may want your publications to pick up data sets that pertain to each specific ad. Or you may want to assign those options to specific ads, based on an ad's importance and cost considerations.
Make sure your ad management software gives you the choice – and that each ad production choice is reliable, automated and structured to ensure flawless output.
Expense tracking
Make sure your system can track expenses, not only for an ad page, but the cost of each listing in each ad. This detail allows instant analysis of ad invoices, and how they break down across office profit centers, as well as agent and listing expense analysis.
An e-commerce application will allow you to collect ad costs by credit card at the time of order – eliminating collections altogether.
Expanded capabilities
An ad management system should be a marketing database, where enhanced data can be applied to other marketing functions, as exports of data to a separate vendor, or enhancements to the ad software that allows one-click tours, property websites, video, social feeds, listing syndication and more. Ask your ad management vendor how they stack up in this regard.