Set a photo standard for all your listings all the time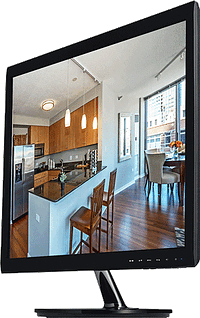 In competitive online venues where the participants often bemoan the fact that the playing field has been leveled, surprisingly few of them exercise an relatively easy advantage…clear, high-quality, high-res listing photos.
If you're looking for a way to help your real estate brokerage stand out, consider creating a standard for acceptable photography to be used in company listings, and make sure you have programs in place that deliver that photography, in its high-res and/or optimized format, to every online marketing venue you're syndicating your listings to.
There is a wealth of evidence that consumers
prefer looking at larger, better photographs

look longer and are more engaged with better photography
make a 'quality' association with the brokerage that consistently displays clear, quality photographs of its listings.
Get your agents on board with image standards
Making your agents aware of some simple techniques for good photography (one of those techniques is making an investment in a professional) can go a long way toward amplifying the image of your company. Good photos make any listing stand out from its competition, especially those at lower price ranges, where the photography gets more haphazard as the range goes down.
Consider these ground rules:
Size minimums – make sure that the pixel count is high enough to enlarge the photograph. These days that minimum is at last 1920 pixels wide to fill your largest computer screen. Be aware that a high pixel count (high-resolution) does not necessarily mean a good real estate photo.
Time of day – Night or dusk shots just don't work – and don't show a home in its best light (pun intended). The same for dark dreary days...make sure the sun is out - even for inside shots. Be aware of the sun's position and how it will shine into the house – it is best when the sun behind or to the side of the photographer, inside or out.
Showing-ready – no messes, no pets, no excuses for a home not being as clean and neutral as possible.
Use a quality camera – The camera doesn't have to be expensive – just easy to use and handle - preferably with a bit of a wide angle. Most smartphone cameras are hard to handle and keep steady. Though some agents have mastered the technique, most are unable to. One can almost always identify a photo that's been taken with a phone – most often for its lack of quality. It's kind of a giveaway to a lack of effort.
Make sure your upgraded photos get syndicated
Most listing syndication is done directly from the MLS, primarily because it is easy and convenient for most brokerages. The only problem is that images, even the quality ones, get downsized for the MLS for bandwidth reasons. Most often, these downsized images are the ones that get syndicated to the national portals – even to the brokerage's own website.
Consider looking to a real estate marketing database that syndicates your photos in their best format, so that they give your brokerage the edge on the most competitive portals. And now that Zillow will no longer be syndicated by ListHub, there is the matter of single source web activity reporting that a real estate marketing database can resolve.
---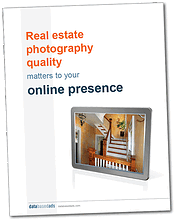 Download ebook:
Set your brokerage apart with
high quality photography...