Video - YouTube
AdMaster™ will create and upload high-resolution video files to any broker YouTube channel as requested.
AdMaster™ property videos generate inbound links, traffic and SEO relevance for the broker website.
The videos appear frequently in address searches and '[Community] homes for sale (or rent)' searches on both Google and YouTube. The YouTube playlists created through the AdMaster™ upload process also generate their own search relevance.
YouTube video features
Inbound links to
Posted to client-designated playlists on broker YouTube channel(s)
Posted when listed, removed from YouTube when off-market
Agent and seller access to YouTube embed link
Agent access to downloadable video file
Low monthly fee per office
From the DBA blog:
Search relevance – that's what.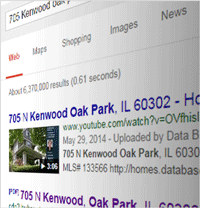 Few automated real estate videos, a.k.a. pan and zoom slideshow videos, get beyond double-digit view counts during the life of a listing. They do, however, provide substantial value in the form of SEO and search relevance. Collectively, a brokerage's video content can rank...