VisTour virtual tours / video
AdMaster™ VisTours display listing photos in a compact slideshow display of pans, zooms and light music. The virtual tour module has its own URL to foster SEO relevance and ALL of its links are directed back to relevant pages on the broker website.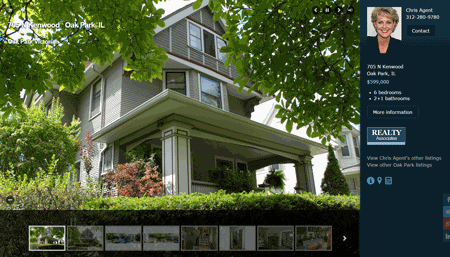 And by using AdMaster™, a virtual tour can be generated for EVERY listing for a low monthly fee.
AdMaster™ VisTour virtual tours are built dynamically and incorporate updates, new images and open houses in real time. The responsive tours will play on any device from desktop to mobile, adapting their format accordingly.
Stand-alone or as part of a larger presentation, AdMaster™ VisTour virtual tours are automatically incorporated in AdMaster's listing syndication, and other online modules. AdMaster™ also generates an unbranded VisTour for MLS applications.
VisTour virtual tour features
Inbound links to

Broker listing detail page
Broker agent detail page
Relevant search pages on the broker website

Turnkey creation – built dynamically from AdMaster™ content
Real-time updates – AdMaster™ changes reflected in real time
Great for email links
Low monthly fee per office
Video files to YouTube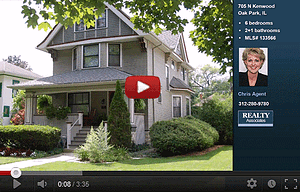 High-resolution video files can be created and uploaded to any video platform. DBA will upload video files to any broker YouTube channel as requested.
AdMaster™ property videos generate inbound links, traffic and SEO relevance for the broker website.
The videos appear frequently in address searches and '[Community] homes for sale (or rent)' searches on both Google and YouTube. The YouTube playlists created through the
AdMaster
™ upload process garner their own search results as well.
YouTube video features
Inbound links to
Posted to client-designated playlists on broker YouTube channel(s)
Posted when listed, removed from YouTube when off-market
Agent and seller access to YouTube embed link
Agent access to downloadable video file
Low monthly fee per office
Digital office window display tours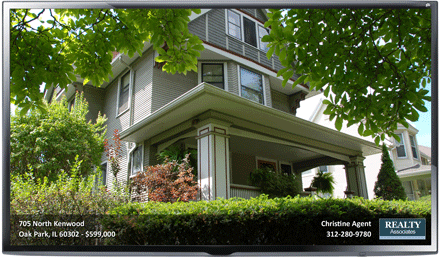 View a sample office window display tour
Give your foot traffic a look at your current listings on your in-office or office window display.
AdMaster™ generates real-time digital office display tours that highlight your current listings on your office HDTV through a local computer and internet connection.
All you do is click your office listing tour link and set the display in motion.
Learn more about our office window dislay tours.