Social media feeds
Having key social media metrics pointing at your broker website is an important component of an overall SEO strategy. While the individual posts and videos do not deliver SEO credit (nofollow links), the presence and link direction sends signals to the search engines of relevance, especially when there is external activity (likes, comments, shares) on the content of a social account.
YouTube, Google+, Facebook and Twitter are the most prevalent real estate social media, and we feed them all. If your company and/or office has a presence on these social networks, it is very relevant to let your followers know that you are listing and selling homes on a consistent basis.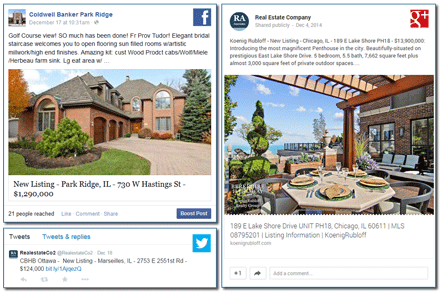 DBA can create Social media RSS feeds from AdMaster™ data on a company or office basis. Our new listing feeds drip new listings into the social media of choice at intervals determined by you, to avoid overwhelming your followers. We'll also set your feeds to be limited by price range or property type when appropriate.
All social media posts link back to the detail page on the broker website or other single property website determined by the URL listed in the AdMaster™ database.
AdMaster™ real estate social media feeds:
Format your incoming listings for optimal display on social network sites
Drip the listings at hourly or other appropriate intervals
Limit the feed to appropriate properties
Provide social media RSS feeds at a company or office level – depending on volume
Are set up by DBA's client service staff – just give us admin rights to your Facebook and/or Twitter account