AdMaster™ online marketing
Maximizing traffic and SEO opportunities for a client broker's website is undisputedly the most important element of online marketing today.
Creating turnkey applications that support those traffic and SEO opportunities is an AdMaster™ objective.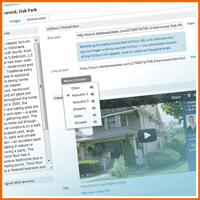 Inbound links from external domains are one of the most effective ways to add authority and SEO relevance to a broker website. In turn, that authority helps drive the site higher in the search engine results pages, hence increased traffic for your site. Traffic is the most important component of SEO relevance, and it's the most significant driver of your lead capture rate.
AdMaster™ online marketing is designed to harness those links through our sites and others to maximize the broker's SEO relevance and deliver more traffic.
Online marketing through AdMaster™ presents a turnkey opportunity to create and distribute listing data in various applications that maximizes efficiency for brokers and agents alike.
AdMaster's ability to accept and distribute data from various sources streamlines creation and real time updates of online property presentations.
---