Multi-listing HTML email marketing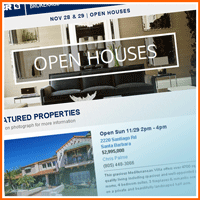 AdMaster™ can also facilitate the marketing of new listings, open houses and other listing groups to their custom agent and broker target lists.
Using our ad selection technology, brokers can aggregate appropriate listings for specific agent groups, then use our HTML output to get the word out via commercial email marketing applications.
Use our format or create your own custom brokerage format.
---
From the DBA blog...
Real estate email marketing needs to focus on business
Email marketing is still the number one form of marketing for small and medium size businesses – evidence of which you see every day in your inbox.
For realtors & real estate companies, it is one of the ...