The answer to that question is that there really is no right length – as long as you can keep it interesting.
There's a recurring request that we hear from clients that a property video should be short – some say less than a minute – some say 2 or 3 minutes, others less than 5.
If you're showing a studio apartment, your video probably should be only a couple of minutes, but if that studio apartment is in the heart of a lively neighborhood, your video could go on for several minutes – as long as it takes to describe the things that makes that apartment appealing and hold your audience interest. And that includes the building amenities, the local dining and bar scene, entertainment, and so on.
Generally, the argument for 'short' stems from the misguided notion that all people have short attention spans – "no one will watch a 10-minute video of a property". But here's the thing – if you've got an interested prospect, they're going to stick with it – heck they'll probably even want more. And who are you really trying to entice with your videos - casual encounters or live prospects?
Like any marketing medium, real estate videos are going to get many casual viewers and a smaller percentage of potential buyers or renters who are truly engaged.
I went to our YoChicago YouTube channel for some audience retention stats.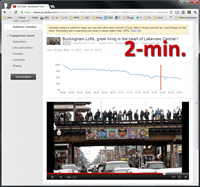 This 2-minute video (click the images to view the graphs) is holding on to nearly 50% of its audience at the end of the video. This 6-minute video is holding on to 30% at the end, and this unusual (for us anyway) 20-minute video even has 30% of its audience watching the entire tour.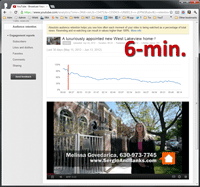 While these numbers at face value may suggest that the 2 minute video is better option because it retained a higher percentage of viewers, I would counter that it retained a higher percentage because it was short – which doesn't gauge interest. And 2 minutes into the 6-minute video, there was over 60% retention.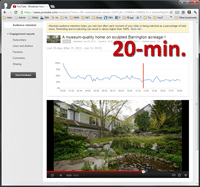 I picked a representative sample after looking at about 30 samples (of our 2,100+ videos) and the trajectories are fairly similar. Some of course are better and some fare worse. We had one 15-minute video with hundreds of 'views' that fell flat before the 5-minute mark with zero-retention. It really depends how interesting the content is to begin with, and then how much more interesting you make it.
And don't forget that the casual viewers may not be interested in your property, but they're getting your marketing message that promotes you as a savvy marketer who's willing to utilize video to sell properties. That counts.